SUSE Certified Instructor Program
Welcome to the SUSE Certified Instructor (SCI) Program.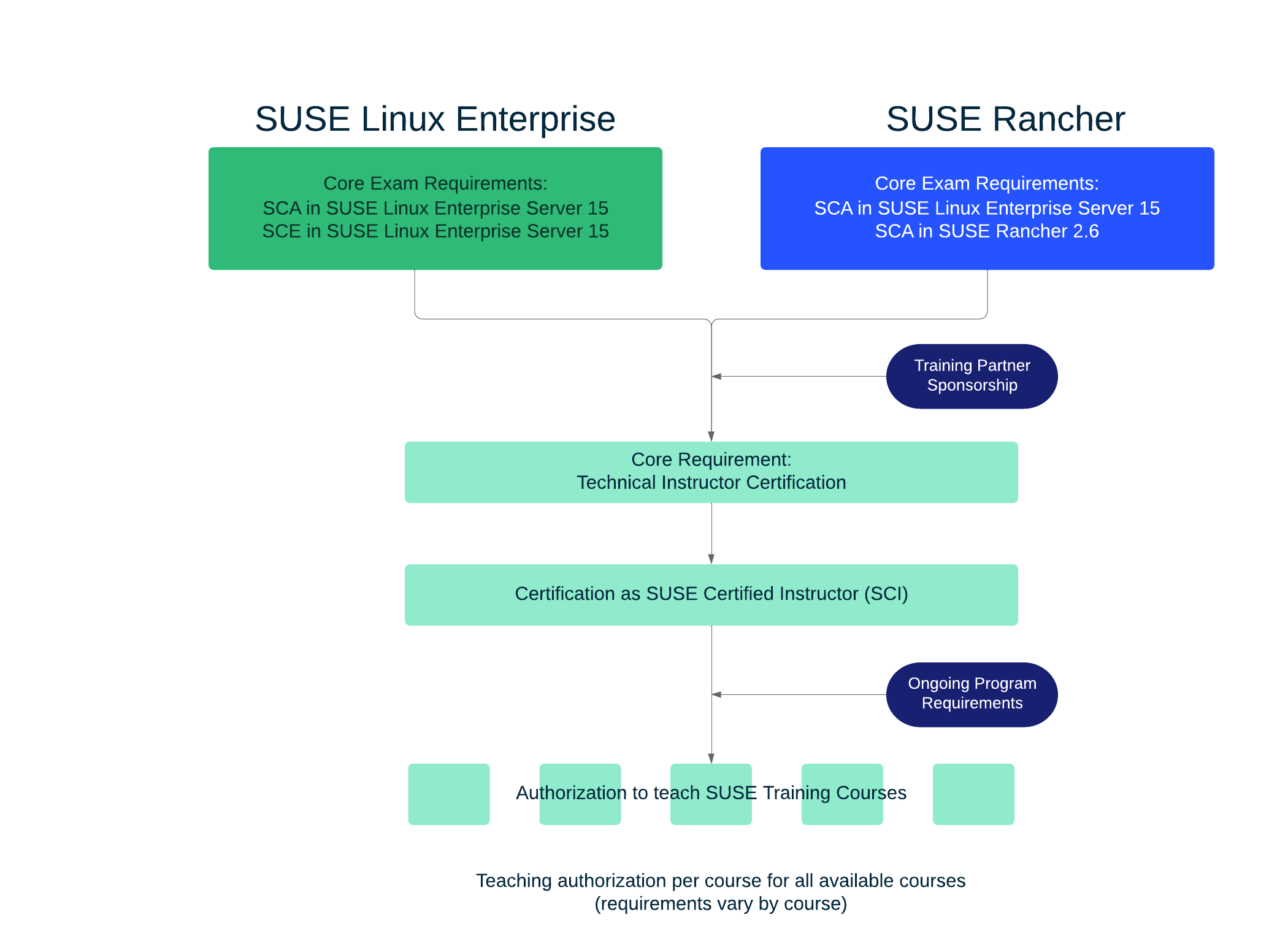 SCI Program Overview
To apply to the SCI program please review the flowchart above to understand the program requirements then follow the steps below to make an application to the SCI program. There are two entry points to the program, one for instructors looking to teach primarily SUSE Linux Enterprise and SUSE Manager courses, and one for instructors who will focus on Rancher and Kubernetes.
Step 1: Candidates must meet the core exam requirements before applying to the program. If you do not meet the core exam requirements, then first pass the required exams for your selected program entry point. Applications from candidates without the core requirements will be rejected.
Step 2: Apply to the program. Complete the online form available here
Step 3: Depending on the specific details of your application your teaching skills will be reviewed and assessed as required.
Please refer to the SCI Program Guide for full details of the program and requirements. We recommend that all applicants review this guide prior to application.
Instructor Course Materials
SUSE Course materials are available to authorized SCIs. Access is controlled based on your teaching authorization status. To access course materials you must hold a teaching authorization for at least one class in the course group (Linux, Management, Container and Application Platforms).

Teaching Authorization Requirements
A key aspect of the SCI program is authorization to teach specific courses. To review the authorization requirements for currently available SUSE Training courses use the Course Authorization Requirements table.
SUSE Certified Instructor Train the Trainer Videos
Train the Trainer (TTT) videos are now posted in the same folder location as the course manuals and slides. They are in video format to make it easier for SCIs to view the sessions without having to either attend an in-person session or join an online live session. We believe that this provides a more flexible approach to allow you to prepare for new training courses without having to find time to join a TTT session.
SCI Program FAQs
I have been de-authorized from the SCI program because I did not update to SCE 15. How do I rejoin the program?
To rejoin the SCI program simply update your technical certification to SCE 15 and then contact SCI program support to ask for reinstatement to the SCI program. Reinstatement is at the discrection of the SCI Program Manager.
I cannot access course files which I am authorized to teach, how do I fix this
Send your login name and certification ID to SCI program support using the email address below.
I have a question about the SCI program – who can I ask?
There is a dedicated email support address for the SCI program. Please email SCI Program Support for assistance.